I'm definitely not the first person to use a big fluffy air mattress in a tent. I'm certainly not the first person to fry the electric inflator of the mattress by running too high a voltage through it in an attempt to recharge it extra fast. I'm probably not the first person to jury rig an improvised air mattress inflator using … erm … a car exhaust pipe. However, I am probably one of a select few to do all of the above having woken up that morning in a five star hotel in Las Vegas.
We are in Joshua Tree national park, having driven from the Aria Hotel (cunningly yield-managed to an extraordinarily cheap price on a Sunday night); across the Mojave Desert (which has NO gas stations, for those of you who are thinking of setting out from Las Vegas with a half empty tank); along one of the few remaining portions of the original Route 66; and into the hills of Joshua Tree, all playing obligatory U2 at wildlife-scaring volume. It is meant to be the last hurrah of our flowery tent – due to be thrown away when we reach Los Angeles – and I am lying awake rather worried. The tent is cozy and snug, and we have a double air mattress full of exhaust fumes.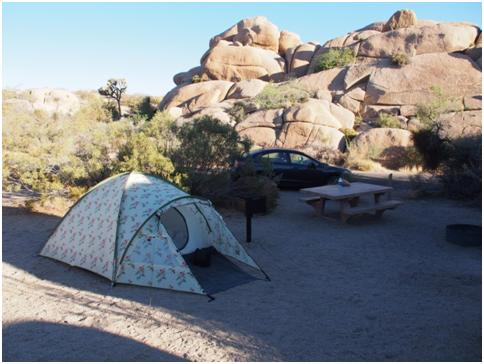 [The Tent's Last Hurrah (although we eventually relented, and posted it back to the UK)]
Blowing it up actually worked surprisingly well, with Lucy gently gunning the accelerator on request and me clasping the valve over the car exhaust as if a good night's sleep depended on it. The mattress leaks, however, and exhaust fume asphyxiation in a tight tent isn't how I intend to go (skydiving head down into an active volcano, for those who are curious). Thinking it through very carefully, however: a slow leak, large tent vents, a fresh breeze and mandatory catalytic converters make it safe, and we sleep tight.
Joshua Tree is famously inhospitable. How the early settlers got their tent pegs in I don't know. We sleep extremely well under a clear starlit night, then get up at 6:30am and trek for three and a half hours from through the scrub in the scorching heat, down Lost Horse Trail, past an abandoned gold mine and finally up to a view of the San Andreas fault. World class hiking, but we are somewhat national-parked-out at this point having been to Zion, Grand Canyon and Bryce in the last few days, and we are overdue in San Diego for running water, electric light and good sushi.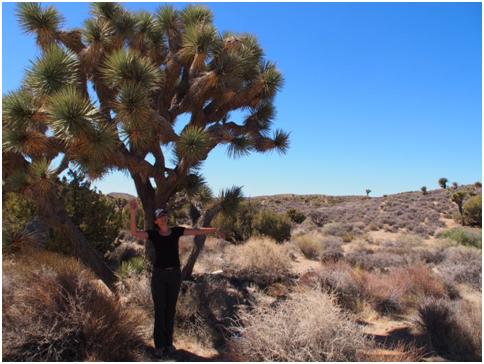 [Lucy doing her finest Joshua Tree impression – instructions: please wave your hands in the air like you just don't care!]