All in all, it'd been a pretty rough 2 weeks in Vanuatu; limited electricity, no plumbing, and lots of near-naked men. Fun and all, but we were jolly glad to be getting back to Port Vila, the nation's capital and home of such excitements as running hot water; good bread (and pastries!! Gotta love the French ex-colonies), restaurants; and coffee. We spent a few days there, relaxing, diving (well, James did; I, wonder of wonders, had a mani-pedi J) and having a thoroughly lovely time of it eating lovely food and drinking some nice wine….and coffee. We'd bought some espresso coffee powder in PNG as a way of using up our last kina, and I felt sure we'd be able, with a little cunning, to turn it into a tasty hot beverage. Experiment 1 utilized some tissue paper and a sieve. It failed, unless you happen to like cold-ish Turkish coffee. Experiment 2 was James' invention, and somewhat more successful: a centrifuge constructed out of an empty soda bottle, our travel washing line, and James. See technical illustration below: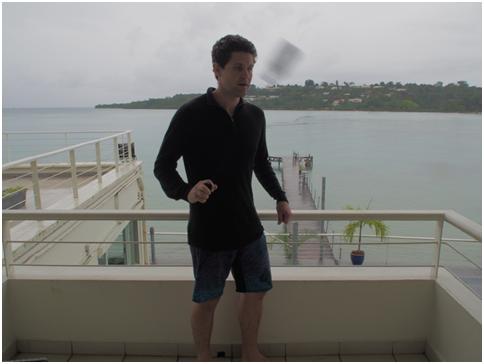 The other and rather time consuming part of our Vila trip was a whole-scale decontamination of our wardrobe. The volcano trip in Ambrym, with associated dampness and smoke, combined with a week with no running water, had left us…well, smelling a little more native than we would have liked. We suddenly realized why we'd not suffered from flies in recent days. Still, the fine city of Vila has a lovely launderette that magicked our nasty stinking rotting items back into our wardrobe just in time for us to doll ourselves up for a 3 course French dinner complete with cocktails and wine.
Civilization's great.