The first rule of going out at night in Port Moresby is: don't go out at night in Port Moresby. Although we joke and complain about being cooped up behind razor wire in hotels elsewhere the country, in Port Moresby (henceforth called PM) it is pretty necessary. Our taxi driver put it best: "I give my passengers rules. The first rule is, never get out of the car. Once an Irish lady got out of the car to take a photograph of the parliament building. She got robbed. At knife point. At ten in the morning. And I had to risk my life to save her – the robber was asking his friends for help in killing me, but they couldn't be bothered. NEVER get out of the car. NEVER."
This little speech was delivered on our way out to dinner on our last night in PNG. The fact that the robbers are quaintly called "raskols" in Pidgin doesn't diminish the fact that this is a very dangerous city, known as one of the least liveable capitals in the world. We were stuck in a dingy, expensive hotel and wanted to stretch our wings a little. We had also had a restaurant recommendation from an excellent guide we had met in the Highlands (hi Nitin!) and wanted to try out "Dynasty" restaurant – it is meant to be one of the best places in town.
Let's set the scene a little. One of the first hits you get when you google restaurants in PM is a blog post called Lower Your Expectations; Dynasty is a cookie cutter Chinese restaurant. In a shopping mall. While we are not natural mall rats, the advantage of a mall in PM is that you can (you guessed it) put a high fence round the outside and ring it with paramilitary-style security guards. This allows expats to wander round relatively safely with a particular mixture of homesickness and nostalgia – a wistful longing for home, as they knew it in the late 1980s.
Dynasty did us proud. No Alexis Carrington-style shoulder pads, but an actual, true-to-life half-decent Chinese restaurant. It was a little empty, seeing as we went at about 6pm so as to get home before the streets got too lively, but we had our dinner, had our beer, called a reputable cab to take us home, and nobody died.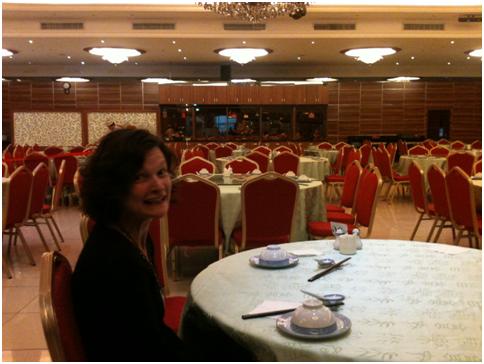 [Lucy in busy, bustling, happening Port Moresby]
While we on the topic of shopping, it was while we were wondering round the mall with our ice creams looking in shop windows (Jesus, what has happened to us?) that we noticed the prices of everything. For example, an iPhone 4 was on sale in a shop for just over US1,250. Some questions: who in PNG can afford to buy them at this price? What heinous import duties are lining officials' pockets to jack them up to that level? What must the locals think when every foreign student backpacker who passes through PNG has one in his pocket? The mind boggles.